If you have always dreamt to travel to Japan, Kyoto is the place you cannot miss. It represents the place where classic and modern Japan blends. I can truly say that Kyoto is the city that I loved most. Its gardens, its temples and its shrines are famous all over the world.
Kyoto became the capital of Japan in the 8th century, in the 794 and it was the center for Japanese politics, economy and culture 1,100 years, until the capital was transferred to Tokyo in 1868.
Have a look at my photos of Kyoto and Japan. Click here
There are a lot of places to see in Kyoto, but for sure you cannot miss the following four.
Kiyomizu-dera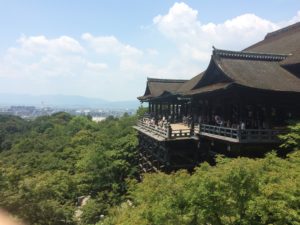 It's on the top of the hill and probably you'll sweat to get to it, but it really worth. Kiyomizu-dera, built at the end of the 8th century, is one of the most representative temples of Kyoto. Enjoy the spectacular view of the city from the platform of the main hall, which is supported by 139 giant pillars. This buddhist temple is also known for its cherry blossoms in the spring, and its red leaves in the fall.
Kinkaku-ji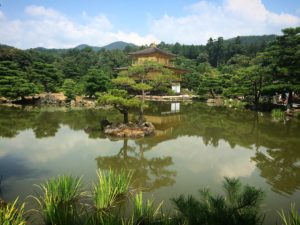 It was the temple I visited in my first day in Japan and I was really impressed by the beauty of the garden and the temple in its naturalistic context. The "Golden Pavillion" was built at the end of the 14th century and originally it was a villa for the shogun of the time, then it was converted into a temple of Zen Buddhism. It is one the symbols of Kyoto. This temple has been burnt down and restored many times. Its reflection on the lake is really impressive.
Arashiyama bamboo grove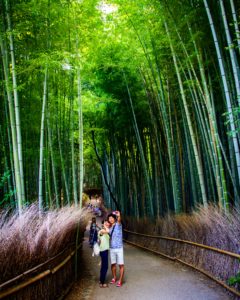 Located in the western part of the city, the bamboo forest in Arashiyama is a suggestive place you cannot miss. You feel like being in another world. I was looking forward seeing it and was not disapponted. You can access from the main street and there's a long path through the bamboos that create an unique atmosphere.
Fushimi Inari shrines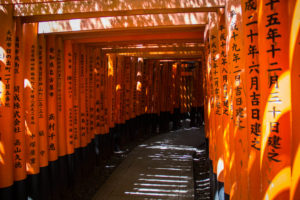 Good luck, health, success in business. These are the reasons why people pray at Fushimi-inari-taisha Shrine. Worshippers donated hundreds of red torii (shrine gates) that form a tunnel leading all the way to the top of Mount Inari-san. This path, always crowded with worshippers, is four-kilometer-long and takes to the shrine on the top, called the Oyama-meguri.
Here is the video of my trip in Japan. Watch it here.
Anyway, if you need some advices, just write me and I'll be happy to help you.
Discover more about Kyoto reading the Japan National Tourism Organization website, JNTO.